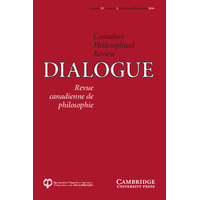 Submissions are invited for a special issue of Dialogue: The Canadian Philosophical Review to be published in the second half of 2017. The topic of the issue is Philosophy and its Borders.
Philosophers have developed multiple connections with scholars in other disciplines, both in efforts to understand how different methods and models are employed in the search for knowledge, and to make available for philosophical reflection tools and insights discovered in other disciplines. Philosophy itself contains a number of different traditions, whose conflicts and tensions can be a rich source of creative possibility but can also be sites of exclusion or oppression. Recent challenges to the discipline have encouraged philosophers to recognize that Western philosophy itself – including analytic, continental, or pragmatist traditions – is just one among many possible approaches. Professional philosophers are increasingly asked to include non-Western philosophical sources in our curricula, for example, by bringing Eastern, Muslim, Indigenous, and Africana traditions into conversation with the Western canon. Feminists have long valued inter-disciplinary and multi-disciplinary work; they often draw on knowledge from different sources and standpoints in an effort to better understand and critique dominant modes of thought. In light of all this, it seems timely to address how best to work across borders in philosophy. Among the questions that might be explored are these:
How do particular traditions and approaches exert power over others?

What model or picture of the discipline ought we to present to our students as they are first learning "philosophy"?

Pedagogy and the role of teaching philosophical traditions: what is appropriate when training students new to the discipline?

What does it mean to draw disciplines and traditions together?

How have feminist philosophy, critical race theory, disability theory, and other critical approaches reshaped understandings of the discipline and its subdisciplines, such as bioethics, epistemology, ethics, metaphysics, and political philosophy?

What successes have there been? What are the areas of conflict or tension?

What does it mean to think of philosophy as having "core" areas? How do these relate to its borders?

Non-Western and Indigenous philosophies have different understandings about what counts as philosophy. What challenges are posed by integrating them into disciplinary curricula?

What does it mean to take the insights and norms of philosophical argumentation and bring them to bear in analyzing work in other disciplines?

How can different philosophical methodologies be brought together? Do we take our methods with us when we cross borders? Do we weave different methods together?

What becomes possible, ethically, politically, and scientifically, when we cross borders, especially given that disciplines understand the nature of "borders" in different ways?
Professor Jane Dryden at Mount Allison University will serve as the Guest Editor for this special issue. The issue will include articles originally presented at the 2016 CSWIP conference.
Contributors are invited to submit their papers directly to the ScholarOne manuscript management system that Dialogue uses: https://mc.manuscriptcentral.com/dia. In the "Type" portion of the submission process, please use "Special Issue: CSWIP" Please indicate that you want your paper considered for the Philosophy and its Borders special issue in your comments to the Editor. Submissions are open until 30 May 2017. Papers may be in English or French.
---