Call for papers
CALL FOR PAPERS: PHILOSOPHY AND ITS BORDERS
Submissions are invited for a special issue of Dialogue: The Canadian Philosophical Review to be published in the second half of 2017.
Read the Call for paper here (bilingual pdf).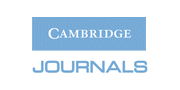 All volumes of the digitized archive of Dialogue are now available online.
CPA members: Follow this link to access to Dialogue content online, free of charge.