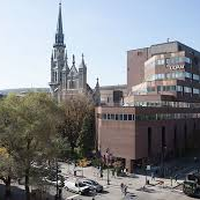 Dear CPA members,
In October 2016, the President and the Program Chair of the CPA were mandated by the Board of Directors to start the necessary planning to hold the 2018 iteration of the CPA's annual meeting in Montreal. Discussions with the Université du Québec à Montréal have been fruitful and we are delighted to announce that the CPA's annual conference will be hosted by UQAM in June 2018. We are currently working with the local organisation team (Mathieu Marion, Luc Faucher and Alexis Morin Martel) on firming the dates, and will ensure that the annual meeting of the CPA will not overlap with Congress 2018, which will be held in Regina in late May. The CPA's current plan is to return to Congress for the 2019 in Vancouver, and this plan for 2018, should be understood as an experiment to see which conference model serves us best rather than a permanent change in association policy.
This momentous decision was motivated by a number of considerations that have become more and more pressing over the years.
First of all, many members of the CPA have become concerned by the increasingly high cost of the combined Congress and Association registration (currently at $312.95 – $136.70 for students, retired and underemployed) and by organizing our own conference we hope to bring those fees down significantly. Secondly, the CPA gradually lost more than 300 annual members between 2007 and 2016, and we are, obviously, eager to reverse this trend. Given the correlation between congress location, paper submissions, and membership rates there are compelling reasons to hold our annual conference in locations that are easily accessible and attractive to our members. For instance, paper submissions are up about 67% this year compared to last year (from 198 to 330). Since paper submission requires membership, those increased submissions often translate directly to increased membership.
Finally, this seemed like a particularly opportune year to try out an annual meeting separate from the Federation's Congress, because (1) the WCPA is already meeting in Regina this coming October, and (2) there has not been a meeting in Quebec since 2010. While we had record of paper submissions this year, less than 3% of papers who were evaluated were in French, and we hope that organising the conference in the province of Québec will significantly aid planned initiatives to renew the associations connection with French speaking philosophers that will eventually reverse an increasingly sharp decline in francophone submissions. The Montreal meeting in 2018 will be the occasion to start working more closely with SPQ: we've determined in recent exhanges that there is vivid interest on both sides to do so in the future.
These decisions were made as part of a more general effort to make the CPA more relevant and affordable to its membership and to philosophers working in Canada more generally and in the hope of better serving their interests. Please stay tuned for more to come, including the launch of our new website in March 2017! If you have any questions, please do not hesitate to contact us.
Very best wishes,
Sandra Lapointe, President (lapointe _at_ mcmaster.ca)
Henry Jackman, Program Chair (hjackman _at_ me.com)
---