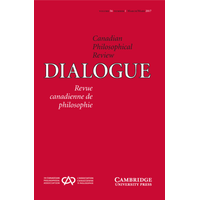 The Canadian Philosophical Association invites applications for the position of Editor in Chief (Francophone Office) of Dialogue: Canadian Philosophical Review. The term of the appointment is four years, renewable in 2027.
Dialogue is the bilingual scholarly journal of the Canadian Philosophical Association. In publication since 1962, its readership includes over 600 members of the Association, as well as English- and French-speaking philosophers from around the world. Dialogue is published three times per year by Cambridge University Press, with grant support from the Social Sciences and Humanities Research Council of Canada.
The successful candidate will collaborate with the Editor in Chief (Anglophone Office) on an ongoing project to modernize the journal's format, with the goal of facilitating a dialogue between philosophers writing in English and French.
Duties of the Editor will also include the management of the manuscript submission and review process; the occasional solicitation of manuscripts or proposals for special issues; and the communication of acceptances, rejections, or requests for revision and resubmission to authors, to ensure the timely publication of the Journal. The Editor will be supported by a highly-skilled and knowledgeable Editorial Assistant.
A professional allowance will be provided to defray the Editor's expenses. The Editor will be expected to negotiate a modest amount of financial and/or logistical support for the Journal with their home institution.
The time commitment averages between five to ten hours per week. The Editors in Chief of Dialogue report annually to the Annual General Meeting. For more information, please see the CPA Bylaws, Articles 8.01 - 8.03.
Qualified applicants should submit a current curriculum vitae along with a statement of goals and qualifications for this position as soon as possible to administration@acpcpa.ca with the subject heading "Dialogue Search Committee" by April 7, 2023.
---