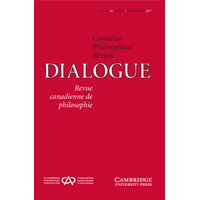 Turn your CPA Presentation into a submission to Dialogue

This year's Canadian Philosophical Association conference has been cancelled and many are disappointed at the loss of this opportunity for philosophical exchange. Let's not let that hard work and scholarship go to waste.
Submit to Dialogue
As the official publication of the CPA, Dialogue invites congress participants to submit individual papers or symposia for publication in the journal if they are selected in anonymized peer-review processes. (This is separate from the public CPA Proceedings online, which will not be peer-reviewed.)

Students welcome
Graduate students are also encouraged to submit their work – there will be a graduate section in one of Dialogue's upcoming issues.

How to submit
Submit your individual article through ScholarOne and select "Special Issue: CPA 2020" as the manuscript type. Symposia and round tables can be submitted the same way, but should be clearly identified as such. If you want to discuss how your symposium, round table, or panel event can be turned into a publication project, e-mail us here:
dialogue.english@acpcpa.ca for English language symposia or
dialogue.francais@acpcpa.ca for French language and bilingual projects.

Help the philosophical community to thrive
To help out with this process, we are reaching out to community members: we need referees for individual papers as well as groups of symposia papers. Please send us an email indicating your willingness to serve in this way. Please include your name, institution, area of expertise, and the languages in which you are comfortable to review. Your help is MUCH appreciated.

Nancy Salay, Dialogue's anglophone editor
Aude Bandini, Dialogue's francophone editor

Transformez votre présentation au Congrès de l'ACP en soumission à Dialogue
L'annulation du congrès annuel de l'Association canadienne de philosophie a été source de déception pour plusieurs membres de notre communauté. Ne laissons pas se perdre les initiatives et le travail déjà entrepris pour la préparation de cet événement, et donnons une chance au dialogue et à l'échange des idées de se poursuivre par d'autres moyens.
Soumettez votre projet à Dialogue
En tant que publication officielle de l'ACP, Dialogue invite les participants au congrès à soumettre leur présentations, individuelles ou collectives, pour publication dans la revue si leurs textes sont sélectionnés au terme du processus habituel d'évaluation à l'aveugle. (Cette invitation ne doit pas être confondue avec la publication en ligne des actes du congrès de l'ACP, qui ne sera pas évalué par les pairs.)

Étudiants bienvenus
Les étudiants des cycles supérieurs sont encouragés à soumettre leur travail. Une section leur sera dédiée dans l'un des prochains numéros de Dialogue.

Comment procéder
Soumettez votre article individuel via la plate-forme ScholarOne et indiquez « Special Issue: CPA 2020 » comme type de manuscrit. Les projets collectifs peuvent être soumis de la même façon, mais devraient être clairement identifiés en tant qu'ensembles d'articles. Écrivez-nous pour discuter de la meilleure façon de transformer votre colloque, table ronde ou disputatio autour d'un ouvrage en projet de publication :
dialogue.francais@acpcpa.ca
dialogue.english@acpcpa.ca

Aidez la communauté philosophique à s'épanouir
Nous aurons besoin de volontaires pour nous aider à évaluer les contributions proposées, y compris des projets collectifs. Veuillez nous écrire pour manifester votre intérêt en indiquant votre nom, l'institution où vous œuvrez, votre domaine d'expertise ainsi que les langues que vous maîtrisez. Votre aide nous sera TRÈS précieuse.

Pour toute soumission d'article, vous pourriez courir la chance de gagner un exemplaire dédicacé du premier volume des œuvres complètes d'Aude Bandini (« Les pingouins ont-ils des genoux ? Réflexions en temps de confinement et autres propos de table »)
Nancy Salay, rédactrice anglophone, Dialogue
Aude Bandini, rédactrice francophone, Dialogue


---