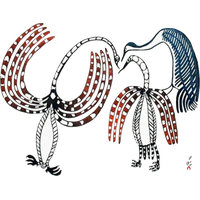 The 2021 Presidential Address
L'allocution présidentielle 2021
"Putting Our Heads Together/ La collaboration en philosophie"
Dominic McIver Lopes (UBC) & Christine Tappolet (Montréal)
Monday, May 31/ lundi, le 31 mai
Congress 2021/Congrès 2021, #47 CPA-ACP
4.30 MT / 16h30 (HAR)
Note: The talk will be bilingual with linguistically reversed slides/La présentation sera bilingue et accompagnée de diapositives linguistiquement inversées.
Philosophers appear to collaborate with each other less than scholars in other disciplines. After surveying collaboration in philosophy, we look for explanations of the relative lack of collaboration among philosophers. In particular, we discuss the question whether the explanations on offer justify our current practices. The question that arises is: if our current practices lack justification, should we change our norms, and if so, what norms of collaboration should we adopt?
Les philosophes semblent collaborer entre eux bien moins que les chercheurs d'autres disciplines. Nous commençons par examiner l'état de la collaboration en philosophie, pour ensuite considérer ce qui pourrait expliquer ce manque relatif de collaboration. Nous discutons, en particulier, de la question de savoir si les explications envisageables permettent de justifier nos pratiques actuelles. La question qui se pose est la suivante: si nos pratiques actuelles manquent de justification, ne devrions-nous pas changer de normes, et si tel est le cas, quelles normes de collaboration devrions-nous adopter?
Image: Lucy Qinnuayuak, Talk of Birds, 1967
---